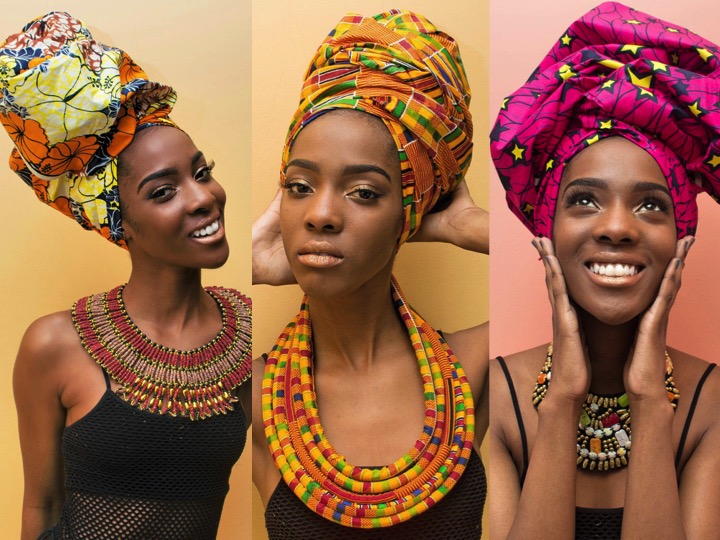 It was 2 years ago today that Hawa Barrie started using african prints to make accessories in her mother's living room. What started as a very small enterprise to help Hawa raise funds for tuition is now an e-commerce business with over 7000 followers on Instagram. We caught up with Hawa to find out how she got started and where she's headed with Hawa's Boutique.
Why  Fashion Accessories?
Actually, I initially started selling IPhone cases. I would buy them from Amazon and resell them to my co-workers and other people I knew. However, I quickly realized that most people, myself included, were not willing to pay more than $10 for a phone case. So I knew that was not going to work for me, but I also knew that I wanted to do something to earn extra income to pay for school. 
At the same time, I was also being inspired by all the African (Ankara) prints fashion that I saw on social media. I remember saying, "I wish I could design Ankara outfits for myself". Until one day, out of boredom I designed a bangle, clutch, and a pair of shoes. I posted a picture on Instagram, and almost immediately people showed interest.
They were not my best designs at all but from then on, I kept practicing and ultimately I became better and it became my passion. Although I bought a sewing machine to work on my sewing skills, I also knew that it would take me a while to teach myself how to sew. Therefore, I decided to stick with accessories for the time being. 
How much did you get started with?
Honestly, I have no idea how much I got started with. I had no business plan at the time. I just remember using money from my paycheck to pick up the supplies I needed. 
How has your life or worldview changed since you started the business?
I can definitely say that my life has changed, because by the Grace of Allah I am able to share my passion with others. Moreover, I now have great respect for other business owners, because it is not an easy task at all. No matter how small the business is. 
What is the biggest lesson that you've learnt so far about building a business that others should know? 
I have learned a lot within these two years, but one of the biggest lesson I learned is that not everybody will support you. 
Therefore, you have to learn to not depend on or expect too much from others. Often times it will lead to disappointments. 
I have also learned the following; 
– Do not get excited about orders with prospective clients because until the money is in your possession, it doesn't count. 
– People will like your work until they have to pay for them.
– Be grateful, and appreciate your customers. There is no dollar amount you can put on a brand ambassadors, goodwill translates to loyal customers. About 80% of my customers are loyal customers (that's should be your goal). 
– Unfortunately, not everyone is professional;  some people will just waste your time. If you are working with others on a project, make sure you have a signed mutual agreement or contract.
How has business grown over time?
I cannot tell you how much it has grown in dollar amounts but thanks to the Almighty Allah, and all my amazing customers, and supporters, I can definitely say that my business has grown a lot over the years and it keeps growing. 
Who are your customers?
My customers are people that love anything African inspired and handmade. 
What is the price range for your accessories?
My price ranges from $10-$80, very affordable. 
What is the most difficult or special piece you make?
For me, the most difficult pieces to make are the Ankara Rope Necklaces. Because it takes time and patience to make them. It can take up to 45 minutes to make one, depending on the design. Again, this is just me. Maybe others can make it in 10 minute; I just do not like rushing when I design.
Where do you see Hawa's boutique in the next 5 yrs? As in what's your big dream for the brand?
In 5 years, I see myself expending Hawa's Boutique. That's is, to expand my product line to include clothes as well as accessories. I also want to have actual boutique (store) in the Maryland area instead of just an e-commerce based business. Insha'Allah!
Find Hawa's Boutique Online:
Connect on Facebook: https://www.facebook.com/HawasBoutique
Join Hawa and over 7800 followers on Instagram: http://instagram.com/ceo_of_hawasboutique