On this our 54th day of Independence from British Colonial rule Swit Salone presents the 54 Most Influential People in Sierra Leone. The key word being "in", if you're not living in Sierra Leone or have not been living in Sierra Leone for the past couple years then you may be influential in the world at large but the people at home may very well be oblivious to your existence.
This list is done in specific order meaning that number 1 is not the most influential in the country nor is number 54 the least. However within each category we tried to list in order of influence For example soccer legend Mohamed Kallon is number 16 on the list but first in football…and so on and so forth. Please feel free to add anyone you feel must be on this list and by the end of the year we will refresh with your suggestions and create a list that is inclusive of your best suggestions.
There are only 53 people on this list because as you all know the President with whom all Supreme Authority lies is the most influential person in Sierra Leone. Hey don't take it up with me, I'm just telling you like I was told.
Happy Independence to all of you in and out of Salone, leh God continue foh coba wi all as wi di go en cam.
*In the music category there are individuals who do not live in Sierra Leone listed*
MUSIC
Jimmy Bangura (Musician/Producer)
Emmerson Bockarie (Musician)
Nasser Ayoub (Musician)
Kao Denero (Rap Artist)
Tetteh Catthouse (Producer)
Hassan Iftoni (Promoter)
Nick Asgill (Video Producer)
Bassem Ayoub (Disc Jockey, previously with FREE RADIO)
Star Zero (Female Rap Artist)
News Media (TV/Radio/Print)
Umaru Fofana (Print/Radio Journalist with BBC/Reuters)
Daniel Moseray (Radio & TV Journalist)
Samuel Valcarcel (TV Journalist)
Phillip Neville (Editor/Publisher of Standard Times Newspaper)
DJ Base (Radio Disc Jockey/Presenter)
Asmaa James (Radio Journalist)
Sports (Football)
Mohamed Kallon (Ret. Capt Leone Stars, AC Milan, FC Kallon, Owner)
Aisha Johansen (First Female President SLFA, FC Johansen, Owner)
Rodney Michael ( Mercury Sports Betting, Lawyer)
Sahr Morris Jr (Sports Journalist)
Mohamed Fajah Barrie (Sports Journalist)
Alie Bittar (Sports Blogger)
Kei Kamara (Leone Stars)
Sheriff Suma (Leone Stars)
Tetteh Bangura (Leone Stars)
Beauty & Fashion
Amizo Bah (Fashion Designer, Maryzco)
Kadiatu Kamara (Model & Fashion Designer, Vivid/Kadiatu Couture)
MaryAnn KaiKai (Fashion Designer, Madam Wokie)
Jenneh Amara-Bangalie ( Fashion Designer, Swank Couture)
Lamrana Jalloh (CEO of Miss Sierra Leone Ltd)
Zainab Sheriff (Model & Actress)
Ramatu Wurie (Model & former Miss Independence)
Business
Sampha Koroma (CEO, Union Trust Bank)
John Sisay (CEO, Sierra Rutile Ltd)
Moseray Fadika (Executive Chairman, African Minerals)
Gladys Strasser King (Owner, Cresmet Brokers and Business Consultants)
Lilian Lisk (Business Tycoon – Melian Tours, Okekey Agencies, Grafton)
Sam King (Hotelier, formerly Kimbima, Taia Resort)
Modupe Taylor-Pierce (American Chamber of Commerce in Sierra Leone, CTI Limited)
Eric James ( M.D., James International)
Finda Koroma (Lawyer, Oil & Energy Consultant, F.K. Consulting Ltd.)
Religion
41. Sister Dora Dumbuya aka Mammy Dumbuya (Jesus Is Lord Ministries)
Technology & WWW
41. Evelyn Lewis (Founder, SBTS Group & Training Sol)
42. Bimbola Carrol ( Founder VSL)
Politics
43. John Benjamin (Sierra Leone People's Party)
44. Alpha Kanu (All People's Congress)
45. Sylvia Blyden (Former Special Executive Assistant to the President, Awareness Times)
46. Maada Bio (SLPP Presidential Aspirant)
47. Diana Konomanyi (APC Minister)
Women Rights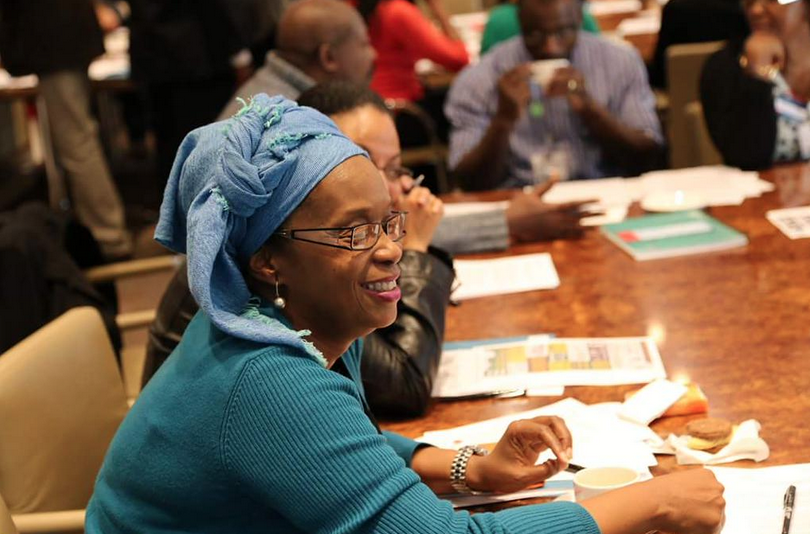 48. Nemata Majeks-Walker (Co-Founder 50/50 Group)
49. Yasmin Fofanah (MARWOPNET SL)
50. Dr Aisha Fofanah Ibrahim (President, 50/50 Group)
Social Media (Facebook)
51. Abu Bakarr DJ Boxx Conteh (Music Producer)
52. Zee Tunkara Clarkson (Development)
53. Patric Foryoh (Political Blogger)